Krewe of G.O.G.G.L.E.S.
Gathering of Outlaws, Globe-travelers, Gentlemen, Ladies, and Extraterrestrials of Steam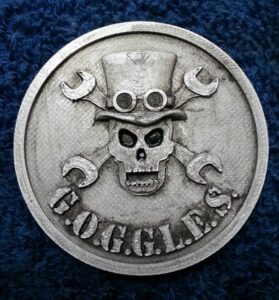 Krewe of G.O.G.G.L.E.S. hopes to gather like minded individuals who are excited about Steampunk. There are no restrictions or rules to what people can make for their Steampunk theme when it comes to G.O.G.G.L.E.S. Want to do Steampunk Star Wars or Steampunk Star Trek? AWESOME! Go for it! Want to do the classic neo-victorian Steampunk look? AWESOME as well! The only limitation to what can made Steampunk is the limitation of ones imagination, We look forward to expanding our presence with Chewbacchus and just showing everyone that Steampunks can have a good time and like to party, as well.