The Guide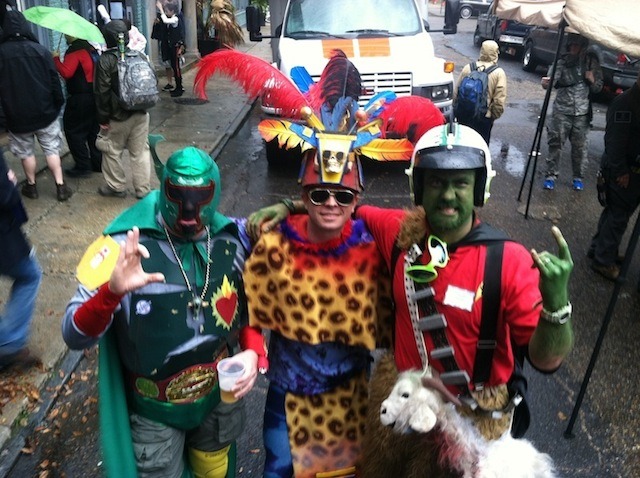 You have questions. We have answers in the Parade FAQ. Your Overlords are overworked so please consult the FAQ before sending email!
Building a contraption is fun but there are things we have learned over the years that will make your contraption successful. Grok the Contraption page to find out how to ensure your contraption makes it from beginning to Chewbacchanal.
Costumes and throws can be anything from simple to elaborate. The best place to ask questions and discuss ideas is on the Chew It Till You're Satisfied Facebook group. There are just a few simple guidelines you MUST follow for Throws:
Make throws that are easy to throw and carry.
Don't wrap your throws in plastic or make disposable throws that generate trash – our goal is always to leave a small trash footprint on the Parade route. If you are not sure if an item is appropriate, ask in the Facebook group.
You do not need to give something to every single person on the entire parade route.
Chewbacchus throws are handmade works of art and this is a big part of what makes them so special. CHEWBACCHUS IS A WALKING PARADE. YOU SHOULD NOT ATTEMPT TO BRING MORE THROWS THAN YOU CAN COMFORTABLY CARRY.
Parade Advice for both Noobs and Veterans
Carry a can of Fix-a-Flat and a chain/lock for any and all contraptions. A basic tool kit is wise to have. If your thing is not waterproof bring a tarp in case of rain.
Do NOT run to catch up to the group in front of you if a gap develops in the lineup. THIS tendency to panic is what creates the "Accordion" effect in parades. It gets worse the further back you are in the lineup.
Maintain a Slow and steady pace. We work for many months to put this thing together. Try and enjoy it!
Give out your beautiful handmade "throws" strategically. We attempt to make Chewbacchus the only Leave No Trace parade in the Universe.